A global pandemic delayed, but could not stop a celebration of life for the legendary Joe Clark. Over 400 friends and family gathered at the Museum of Flight on Saturday evening, September 11 to pay tribute in a way befitting our founder. Which is to say there was as much laughter as tears.
The night dazzled and delighted, moved and memorialized. Speakers shared anecdotes about an irreverent change agent who found his happy place in the sky. Overhead, a Dassault Falcon 900 EX (with Aviation Partners' Blended Winglets), Learjet 35, Learjet 36, Game Composites GB1 GameBird and Grumman F7F Tigercat provided an aerial salute as they flew past in a missing man formation. A Boeing Business Jet (with Aviation Partners' Split Scimitar Winglets) also did a solo pass at the ceremony.
Losing Joe on March 30, 2020 hit the aviation community hard. His Peter Pan quality, always twinkling eyes and boundless enthusiasm for ideas and life made him a youthful 78. While he had accomplished much in his life, he was always looking ahead, dreaming new dreams. Green innovation and aviation's role in driving environmental advances became ever greater passions.
"Joe could talk airplanes and efficiencies forever," says Aviation Partners President Gary Dunn. "I can't think of many people I respected, admired and loved more than Joe. The fuel-savings counter on our website was a favorite of his, so now I can't look at it without smiling. He would love that it's tallying well over 12 billion gallons of jet fuel saved, which translates to a reduction of more than 130 million tons of CO2 on roughly 10,000 business and commercial jets worldwide."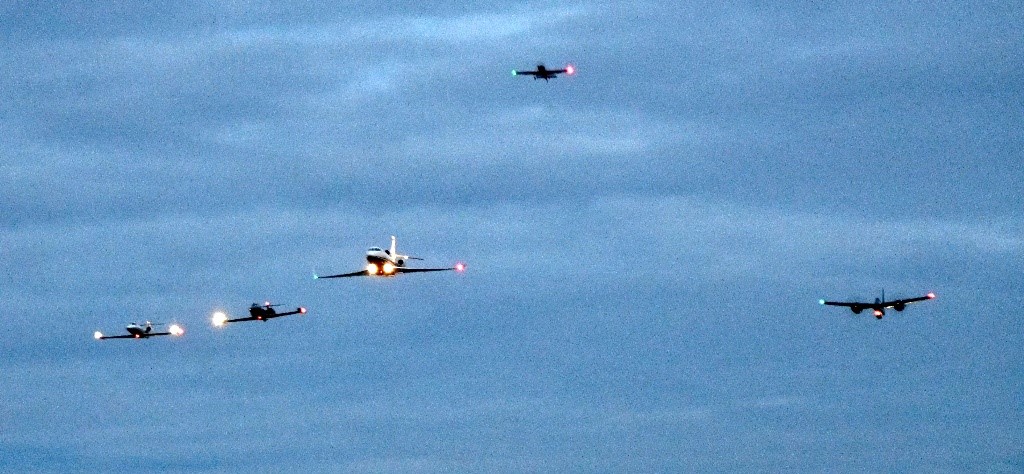 Envisioning Blue Skies
Joe founded Seattle-based Aviation Partners, Inc. (API) in 1991 with longtime friend Dennis Washington. He served as our CEO and as chairman of our joint venture Aviation Partners Boeing. Joe assembled an elite team of aerodynamicists to produce his patented blended (and, later, split scimitar) winglets to cut drag, improving fuel efficiency by as much as 7%. Joe and Dennis set a number of world records. Blended winglets for various Falcon and Hawker models followed. In 1997, our winglets becoming standard on the Boeing Business Jet, paving the way to Aviation Partners Boeing and winglets for thousands of Boeing airliners.
In 2018, Joe founded real-time data-analytics service APiJET as a joint venture of Aviation Partners, Inc, and iJet Technologies. He continued to serve as chairman. The goal: to turn airliners into smart aircraft. The resulting efficiencies improve an airline's bottom line while also enhancing passengers' travel experience.
"Joe revolutionized the aviation industry," says Tom Gibbons, APiJET chief operating officer. "He always thought there ought to be a better way and that information should be available at the flip of a switch. He would dream it and then find people who could make it happen."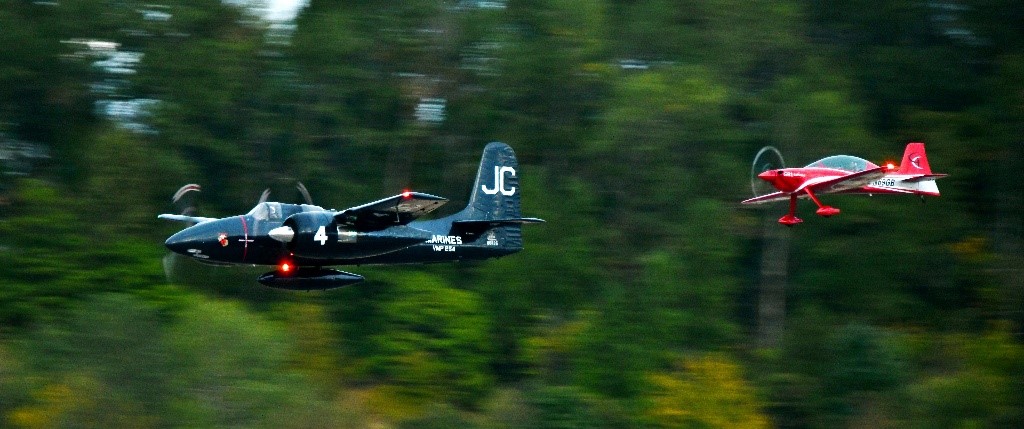 A Life Designed for the Left Seat
Joe was born on Sept. 9, 1941 and earned his private pilot's license in 1961. At the 1964 Reno Air Races, Clay Lacy gave him a ride in a Learjet and embellished the climb with multiple rolls. That event changed his career trajectory. From then on, it was locked on the sky.
Joe founded Jet Air in 1966, serving as the first Learjet dealer for the Pacific Northwest and Canada. "We'd land the Learjet in places where jets had never landed before," he said. "People would come out to the airplane and they'd think you were in a spaceship."
Later, Joe served as vice president of sales for Raisbeck Engineering. He left to cofound regional carrier Horizon Air with Milt Kuolt, Scott Kidwell and Bruce McCaw. When they sold to Alaska Airlines in 1988, they had gone from three aircraft and 35 employees to 54 aircraft and 1,500 employees.
In 1986, he founded Avstar, marketing ex-military aircraft for business use. He bought and sold aircraft from all over the world. His team flew planes across the Sahara Desert. Bought Canadairs from Malaysia. And had adventures aplenty.
Giving as Good as He Got
No industry is more defined by the people in it than aviation. Perhaps that's because aviation is all about connection and eliminating the barriers of time and place.
Joe had a big personality, but he kept a small profile when it came to his often high-dollar philanthropy. His list of causes spanned from children's charities and the homeless to all-things aviation. He liked to get creative in his giving. He and lifelong friends Clay Lacy and Bruce McCaw formed the Friendship Foundation in 1988 and launched it with a globe-spanning trip in a United Airlines Boeing 747-SP dubbed Friendship One. One hundred passengers donated $5,000 each to take the record-breaking flight, which took 36 hours, 54 minutes and 15 seconds, traveling 22,997 miles at an average speed of 624 miles per hour. The $500,000 raised went to UNICEF and multiple children's hospitals.
Throughout his storied carrier, Joe received numerous honors. Those include the Horatio Alger Award, the Living Legends of Aviation's Aviation Entrepreneur of the Year and Lifetime Aviation Entrepreneur, and Professional Pilot's Innovator of the Year. One he especially cherished was the National Business Aviation Association (NBAA)
Meritorious Service to Aviation Award.
"Joe found extraordinary joy in all things aviation," said NBAA President and CEO Ed Bolen. "His legacy will long be visible on the thousands of business and commercial aircraft fitted with his winglets to increase performance and efficiency, while also reducing carbon emissions. It will also be deeply felt by the thousands of individuals and aviation organizations Joe touched in his remarkable lifetime. Although Joe has left us too soon, his vision, passion and humanity will continue to take our industry farther and do so more sustainably."
A Call to Be Better, Do Better
Joe always said, "Anything you can do to enhance to value of an aircraft by improving its performance is a wise investment." Long before there was widespread concern about business aviation's environmental impact, our winglets were helping fix the problem through more efficient operations, longer range and reduced fuel burn. We can make a profound difference in reducing aircraft greenhouse gas emissions.
Joe's lessons live on. We're here to do good things – maybe even great things – one day at a time, with humility and with heart. Father Ed Calahan recited this prayer at a dinner in Bangalore, India back in 1984. Joe carried it in his wallet. We reprinted it in the celebration program and will include it here, too, as Joe's wish for us all.
May the Lord give you:
Enough happiness to keep you joyful
Enough trails to keep you strong
Enough success to keep you eager
Enough sorrow to keep you human
Enough hope to keep you happy
Enough failure to keep you humble
Enough friends to give you comfort
Enough wealth to meet your needs
Enough enthusiasm to look forward
Enough faith to banish depression
Enough determination to make each day a better day than yesterday for yourself, your family and your friends