Farnborough, UK July 16, 2008 – Athens, Greece-based Gainjet has ordered Aviation Partners performance enhancing Blended Winglets for its recently acquired Boeing 757. The aircraft, scheduled to enter service in September 2008, is the first of several 757s Gainjet plans to acquire and will be used in the VIP charter role.
Aviation Partners, Inc. is the sales channel for Aviation Partners Boeing retrofit winglets on VIP and Head-of-State aircraft and market interest in this area remains high. As these aircraft often fly longer flight sectors than typical airline configured aircraft they're ideal candidates for achieving maximum benefit from Blended Winglet Technology.
Aviation Partners, Inc. (www.aviationpartners.com) and Aviation Partners Boeing (www.aviationpartnersboeing.com), based in Seattle, USA, are the leaders in advanced winglet technology. Blended Winglets are certified or in development for a number of Boeing, Dassault, Gulfstream and Hawker airframes. More than 2,500 commercial and business aircraft have been upgraded to date, with orders for approximately 1,200 more.
Gainjet Aviation S.A. (www.gainjet.com) is a VIP aircraft charter operator and management company with its headquarters based in Athens, Greece. The current fleet consists of one longrange luxury Boeing MD-83 executive airliner, one Gulfstream G450 and five medium-range Gulfstream G200 currently in service.
Contact Gary Dunn at media@winglets.com or .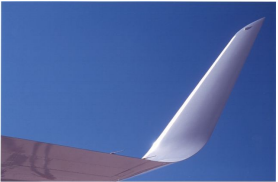 Click to download PDF