The decision to install Aviation Partners' Blended Winglets is easy. It's the modification that increases your aircraft's performance and range while reducing its carbon footprint. To assist you once you've made that decision, we surveyed MROs across the country to identify the next steps for the mod and what questions you should ask before proceeding.
The following are a composite of responses from a number of our trusted and vetted U.S. installation partners.
What should you look for in an MRO partner? 
When selecting a facility to install a winglet, there are a number of important considerations.
The facility should have the expertise. This is an installation that occurs only once on an aircraft, and you want to make sure it is installed properly. Experienced facilities and technicians can install the winglets in the approved manner, efficiently and with the shortest downtime. Look for an MRO that is well established in the industry and has experience with your aircraft type. These experts know your Hawker or Falcon the best.
Also, the facility should have a quality paint shop, which will be needed for the modification. Part of the advantage of winglets is in the aesthetics. A quality paint facility can highlight this, making the aircraft look beautiful on the ground or in the air.
What's the downtime, and how far in advance should you schedule? 
Downtime and lead time for this type of project will vary depending on facility manpower, material and winglet kit availability, and currently scheduled work at the MRO and any other work requested. Typically, Falcon operators can expect a 5-week downtime for the winglet installation, with 1 to 3 weeks for paint. For Hawker operators, plan for a 2-3-week downtime.
To secure a slot that fits your flight schedules, order materials and properly plan for the project, it is better to schedule up to 6 months in advance. This is good practice to get ahead of the very busy schedules most facilities are facing. With private aircraft transactions at record levels for the past year, many owners are scheduling and needing work done directly before or after a sale.
What paint scenario works best?  The winglets and affected areas, entire wing or full airplane? 
With the work required on the wing, and to blend the new paint into the fuselage, the best option is to paint the entire aircraft. If you want the aircraft to look brand new, then this is an ideal time to strip and repaint the entire aircraft. It may save a little money to do only the wings but painting the entire aircraft at the same time will yield a more consistent result.
Should you combine winglets with other modifications or MRO activities? 
It's always a good idea to combine work during downtime. Shop space is at a premium and by combining winglet installation with avionics projects or maintenance events, you will save time and money in the long run. Some other work could include interior soft goods, wood refinish or re-veneer, airborne connectivity, or other avionics upgrades/modifications. Since wing planks have to be removed during the winglet installation process on Falcon aircraft, it's also the ideal time to include the dry-bay modification (if not already completed) and address any fuel leak issues.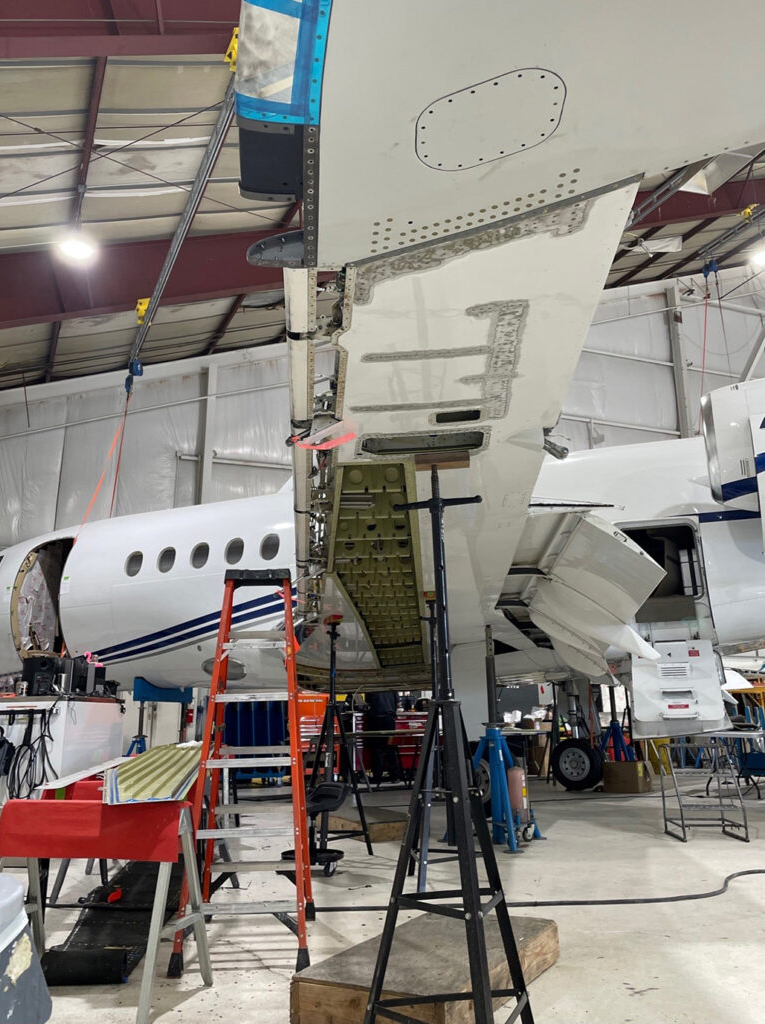 Get Ready to Schedule
All of our partners agreed that early scheduling of the installation is a must. Not only to ensure that you're not competing with other owners for valuable MRO time slots, but also to enjoy the benefits of winglets sooner.
Finally, while some of Aviation Partners' past international Falcon and Hawker winglet customers have brought their airplanes to our U.S. partners for installation; for those who prefer to oversee work on their aircraft closer to home we have MRO partners in Europe, Africa and Asia.
For a complete list of our U.S. and international authorized installation facilities, and to secure your Winglet delivery position, visit www.aviationpartners.com/contact/.